Food has always been a massive part of The Good Life Experience. We often see our campfire cooking sessions, and in particular our huge fire pit, as the very heart of the festival. This year, we're delighted to welcome Thomasina Miers, Anna Jones, Sandor Katz, Olia Hercules, The Ethicurean, Honey & Co, Damien Clisby, Tom Hunt and many, many more to celebrate one of the very best things in life - great food!
SANDOR KATZ
Sandor Ellix Katz is a fermentation revivalist. His books Wild Fermentation and the Art of Fermentation have helped to catalyse a broad revival of the fermentation arts. A self-taught experimentalist who lives in rural Tennessee, the New York Times calls him "one of the unlikely rock stars of the American food scene."
VALENTINE WARNER
Valentine Warner is a cook, food writer, broadcaster and co-founder of Hepple Gin. From an early age he says he understood the world through his mouth and subsequently bit everything from paint tubes to table legs. Today he is best known for his BBC 'What To Eat Now' TV and book series, with a strong focus on robust, flavoursome food.
OLIA HERCULES
Olia Hercules is a Leith's-trained chef, recipe writer and food stylist. Having honed her cooking skills in the fiery kitchens of Ottolenghi, she was picked as Observer Rising Star of 2015. A regular contributor to the Guardian's Cook supplement, Olia has written two books: Mamushka: Recipes from Ukraine & Beyond and Kaukasis.
THE ETHICUREAN
For brothers Iain and Matthew taking produce from farm to fork in a matter of hours is a serious business. Tucked away in a Victorian walled garden, with views over the Mendips, The Ethicurean was The Observer's Best Ethical Restaurant in 2011.
GEORGE SQUAIR
George is a passionate forager and can think of nothing better than getting lost in the woods with a flask of tea and his mushroom basket. He works with Damian Clisby at Petersham Nurseries and loves the amazing seasonal produce grown at Haye Farm in Devon. Then there's the incredible fish from the west coast!
SIGNE JOHANSEN
Signe Johansen is a Norwegian cook and author of How to Hygge, Scandilicious, Scandilicious Baking and most recently Solo: The Joy of Cooking for One. A longtime whisky enthusiast, she is the co-founder of 'Spirited Women', a project to get more women into whisky and other spirits.
ROGER PHILLIPS
Roger Phillips is a mushroom maestro and one of the most respected foragers in Great Britain. In 1975 his began his life's major work, photographing an encyclopaedic collection of world plants and he has since written 20 additional volumes with combined sales of 4.5 million copies worldwide.
TRINE HAHNEMANN
A chef and food writer, Trine is an enthusiastic advocate for sustainable solutions, organic sourcing and food cooked with love. With her great knowledge of Danish food and food culture, she writes compellingly about her extensive expertise and life experiences in food.
JULIUS ROBERTS
Julius Roberts is a cook, farmer and vegetable gardener who celebrates nature with a deep respect for ingredients, seasonality and animal welfare. Sustainability is at the heart of everything Julius does.
MARK DIACONO
Mark spends most of his time eating, growing, writing and talking about food. He has written a number of books including A Year at Otter Farm, A Taste of the Unexpected, The New Kitchen Garden and four River Cottage books. His new book, Sour, is published in September 2019.
MIKKEL KARSTAD
In the early 2000s, Danish chef Mikkel Karstad helped to define the New Nordic Cuisine, working closely with René Redzepi's Noma, developing recipes for the restaurant at its Nordic Food Lab. He describes his style of cooking as 'simple and natural'.
STUART OVENDEN
Passionate about simple, seasonal and foraged food Stuart Ovenden is one of the UK's leading food photographers. He recently published his first book, The Orchard Cook, following his journey cultivating a 15-tree orchard in Hampshire.
ANJA DUNK
Anja Dunk grew up in the Welsh countryside where homegrown produce and wild foraging were part of daily life. Here began her love for preserving. SShe is co-author of Do Preserve - Make your own jams, chutneys, pickles and cordials. Her latest book, Strudel, Noodles and Dumplings: The New Taste of German Cooking, is a TGLE favourite!
GRACE REGAN
Grace is the founder of SpiceBox, the fantastic vegan street food brand that operates under the banner of 'Plant-Powered Indian Food'. After a successful run on the street food circuit with KERB, Grace has recently turned to bricks and mortar. SpiceBox is also a vegan curry house in Walthamstow.
HONEY & CO
Sarit Packer and Itamar Srulovich are the award-winning chefs and authors behind the Honey & Co. empire which includes a diner serving traditional, homey Middle Eastern fare in London's Fitzrovia, a deli, a Grill House, a cookbook, and a weekly column for the FT weekend magazine.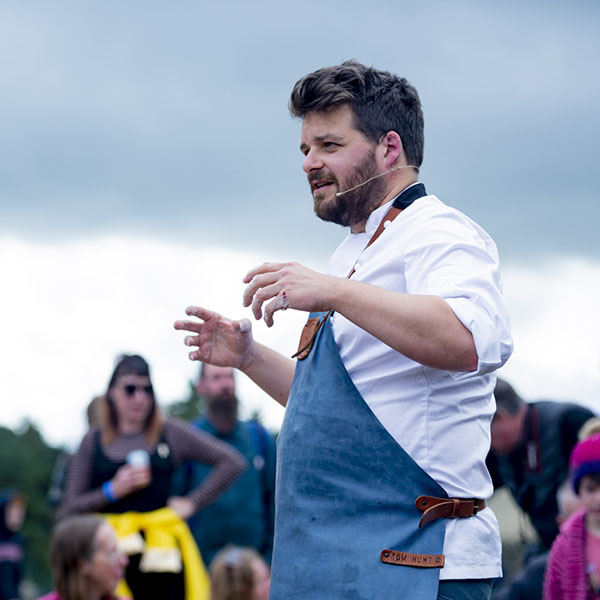 TOM HUNT
Tom Hunt is an award-winning chef, food writer, campaigner, and author of The Natural Cook. Tom runs Forgotten Feast a campaign promoting sustainable food through dining and celebration, as well as his own restaurant, Poco, in Bristol, which was the Observer's Best Ethical Retaurant in 2013.
CLAIRE THOMSON
Claire Thomson is a chef and has been for well over a decade. She loves the fast and furious pace of cooking during a busy night at the stoves. Claire has published 5 O'Clock Apron: Inspiring Recipes for Children, the National Trust Family Cook Book and most recently the much celebrated Art of the Larder: Good Food from Your Storecupboard, Every Day.
CHRIS ROBERTS
'Lambassador' Chris Roberts is famed for barbecuing his way around the North Wales Coast with his Asado grill. Fuelled by organic Welsh meat, and copious amounts of his signature Sexy Rub seasoning, Chris and his dog Roxy have become social media sensations.
ANNA JONES
Anna Jones is a food writer, stylist, author and pioneer. Her career started at Jamie Oliver's Fifteen apprentice programme and she has gone on to become hugely influential and widely respected. Her book A Modern Way to Cook was a smash hit and together with her Guardian Weekend column has redefined the way that many think about vegetarian cooking.
LIA LEENDERTZ
Lia Leendertz is a writer and journalist whose work regularly appears in The Guardian and Telegraph as well as Gardens Illustrated. Her books include My Tiny Veg Plot, The Twilight Garden and The Half Hour Allotment. Her new series of almanacs A Seasonal Guide… aim reinvent the rural almanac.
KAREN O'DONOGHUE
Karen O'Donoghue is the founder of Happy Tummy Co. Karen's attitude to food comes from a deep respect for the land. As the daughter of two horticulturists she prefers as little intervention as possible between the time a food is picked and the time it reaches your mouth to keep your tummy in optimum gut health.
JESS LEA-WILSON
Jess Lea-Wilson is brand manager of the globally renowned Welsh salt producer Halen Mon. She is the author of Do Sea Salt: The Magic of Seasoning. She knows a lot about salt and is also a champion of sustainable food production and a public speaker.
THOMASINA MIERS
Thomasina Miers is a cook, food writer and television presenter, an entrepreneur and the co-founder and Executive Chef of Wahaca Restaurants which are inspired by the food markets of Mexico. She is a passionate advocate of good food, responsibly-sourced and wonderfully-cooked. She supports fairtrade producers and local markets. You may also know her as 2005's Masterchef winner.
HONEY & CO
Sarit Packer and Itamar Srulovich opened Honey & Co in 2012, launching their restaurant Honey & Smoke and deli Honey & Spice close behind. Honey & Co The Cookbook (was named Cookbook of the Year by The Sunday Times (UK), Fortnum & Mason Food & Drink Awards Cookery Book of the Year 2015, and The Guild of Food Writer's (UK) Award Winner for Best First Book.
ANJA DUNK + JENN GOSS
Anja Dunk grew up in the Welsh countryside where homegrown produce and wild foraging were part of daily life. Here began her love for preserving; a subject she has gone on to write a number of books about. Jenn Goss lives on a smallholding in West Wales where the produce from her land and surrounding hedgerows provides ample supplies for Our Two Acres – the catering company she set up after a career in the hospitality industry in London.
DAMIAN CLISBY
Damian Clisby's passion for cooking was ignited by his grandfather, a butcher at Smithfields who taught him how to smoke freshly caught salmon on his farm in Co Cork. Damian went on to work in some of the best kitchens in London including a recent stint as head chef at Petersham Nurseries. Damian is a keen forager and we are thrilled to welcome him for a pit-cooked feast at The Good Life.
MIKE KEEN
Mike Keen lives in the beautiful Suffolk countryside and is the owner and executive chef of Ipswich food pub The Brewery Tap and Cult Cafe on the town's waterside. Born in Colchester but brought up in Nigeria and Saudi Arabia, Mike got a taste for exotic flavours and adventurous cooking at an early age.
THE VEGETARIAN SOCIETY
The Vegetarian Society's mission is to inspire, inform and enable people to be vegetarian. Their cookery school offers a whole host of veggie and vegan cookery experiences from vegan cheese making to mushroom foraging. They'll be popping up in Hawarden Castle Pavilion for the ultimate vegan Sunday Lunch.