music
Co-founder Cerys Matthews curates a knock-out music line-up of jazz, blues, classical, world, folk and funk at The Good Life Experience. Taking cues from her superb BBC 6 Music show, expect to discover new sounds, new bands, and dance with new friends at The Good Life Experience.
Elsewhere our friends at Caught by the River return to host their very own stage in a new, beautiful location- with another triumphant line-up. Caught by the River is an arts/nature/culture clash, conceived in 2007 as an online meeting place for pursuits of a distinctly non-digital variety: walking, fishing, looking, thinking. From birdsong and beer to adventure and poetry; life's small pleasures, in all their many flavours.
SNAPPED ANKLES
They came from the trees.
Now settled in fertile east London, Snapped Ankles maintain the feral energy of the forest. Fight or flight. Primal motorik rhythms, the rush of white noise and post-punk angles; an aural onslaught played out on homemade log synths, electrified guitars and sticks beating hell on taut animal skin.
Snapped Ankles have flourished in the sub-tropical climes of warehouse and squat parties, moving onto performance art collaborations with filmmakers and shows in unlikely locations such as barber shops, games arcades and the forests they once called home. They plough a singular furrow at improbable angles. The woodwose have discovered electricity and they're not afraid to use it.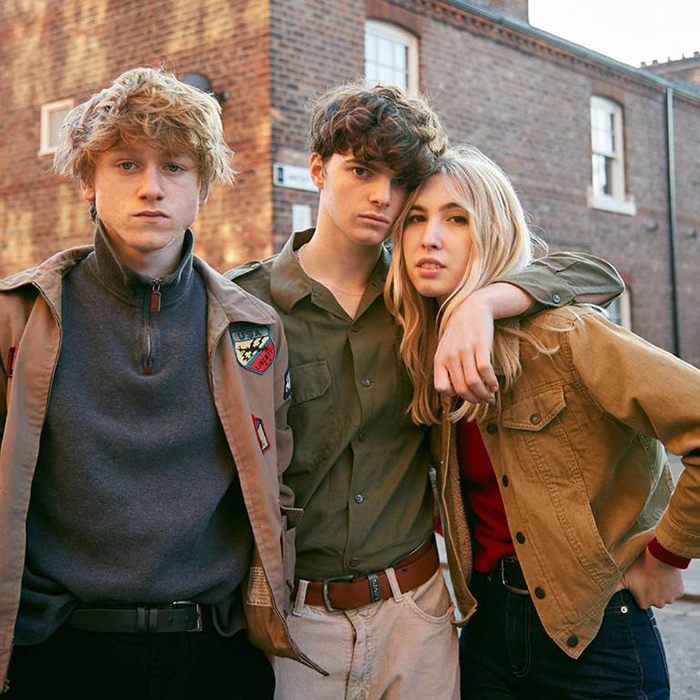 WORKING MEN'S CLUB
Like a homage to smoke-filled vaults, ageing billiard rooms and crumby packets of pork scratchings in the Working Men's Clubs of days gone by, Todmorden-by-way-of-Europe trio Syd, Jake and Giulia are about to fling open the doors of their own millennial social hub, fusing the 70s post-punk start-stop sound of Talking Heads, Gang of Four and Television with the stomp of Parquet Courts' positivity. Syd's half-spoken words jab through Strokes guitar lines with Mark E. Smith drawl...it's the feeling of a Saturday spent scuffing about in thrift stores and hanging out with friends.
SEATBELTS
Seatbelts are comprised of James Madden, Ryan Murphy, Abigail Woods and Alex Quinn. James and Ryan - known for their work in Hooton Tennis Club - wanted an alternate name for The Beatles, and while jumbling the letters around over a drunken phone call Seatbelts poured forth.
Their first release 'Songs For Vonnegut EP' is dedicated to legendary writer Kurt Vonnegut. With a new EP 'Please Slow Down' due to be released this April the band have shared two singles so far, the lush 'Content Crush' and the upbeat, avant-pop 'Spanish Songs'. Their latest single 'Spanish Songs' has received airplay on BBC 6music (Gideon Coe) and BBC Radio Wales (Janice Long). The publication 'Louder Than War' described the single "for any lovers of that Postcard Records era Seatbelts bring that twist of classic melody and delightful eccentricity with this perfect single".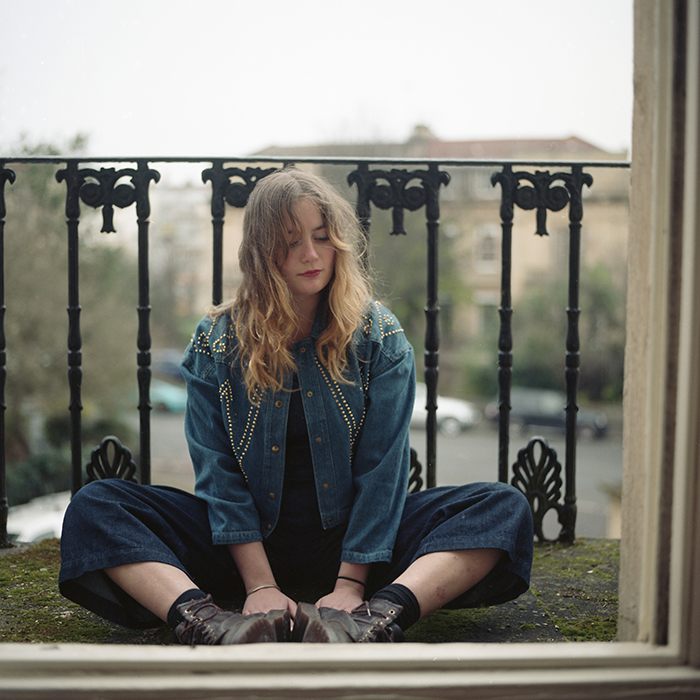 KATY J PEARSON
Combining a unique voice with a knack for melodies that lodge themselves in your brain, Katy J Pearson writes songs could only have come from her time growing up in the rolling hills of the West Country. Having first explored songwriting as one half of dream-pop duo Ardyn, her new solo project casts a more intimate light upon her distinctive vocals, whilst also refining her portrayal of the wondrous world around her. Her songs convey a glorious nostalgia, refreshingly at odds with the rush and fury of modern life.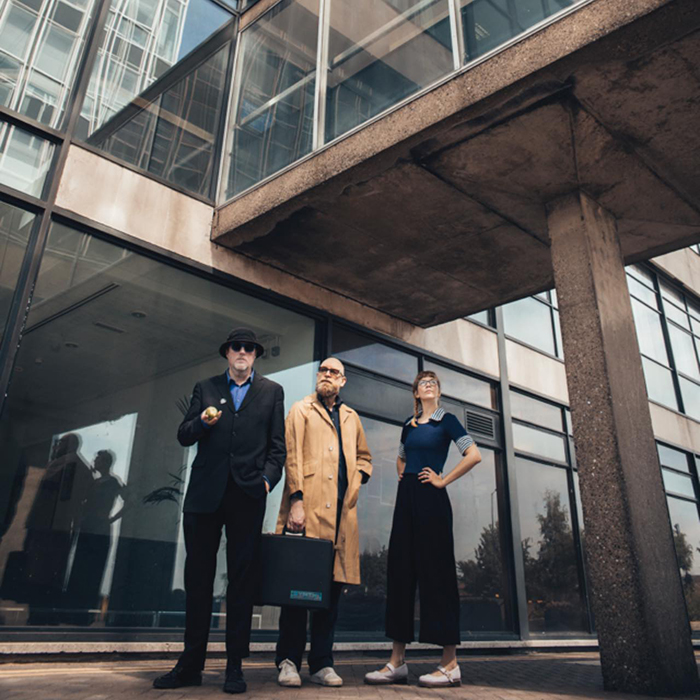 INTERNATIONAL TEACHERS OF POP
It's 10 months since The Moonlandingz founders / writers Adrian Flanagan (Eccentronic Research Council) & Dean Honer (All Seeing I /I Monster) bumped in to lead singer, Leonore Wheatley (The Soundcarriers) at a 'Circuit Bending Workshop' in South Yorkshire where they decided to try writing "one song together and see what happens!"
Always with one eye on pop music and the other on something more artful, playful and slightly wicked, Leonore describes the group as "Grace Slick on the raz with Donna Summer and the Pet Shop Boys, legging it over to Kraftwerk's gaff for a quick synth-sesh before getting a cab round to All Saints gaff to sing at the telly til the sun comes up!"
MODERN NATURE
Modern Nature - the name taken from the title of Derek Jarman's garden diaries - is the new project of Jack Cooper, ex of Ultimate Painting / Mazes and Will Young of Beak, featuring Aaron Neveu of Woods and Sunwatchers' Jeff Tobias on saxophone.
"The band is so new, it's hard to say who's in and who isn't", says Cooper.
WILL BURNS & HANNAH PEEL
Will Burns is poet-in-residence for Caught by the River, and was a Faber New Poet in 2014. Hannah Peel's 'cosmic colliery' electronica has explored a diverse range of inner and outer landscapes: refracting the science of both the human brain and outer space through analogue synthesisers and community brass bands. Chalk Hill Blue, the duo's first joint album, is a record of electronic ruralism channeling lives threaded through the chalk landscapes of Southern England, produced by Erland Cooper and released on Caught by the River's Rivertones label.
TOBY JAY & JIM GHEDI
Jim Ghedi and Toby Hay's duets for the 6 and 12 string guitar are a collaboration exploring connection to landscape and place through composition, improvisation and folk song. At this year's Good Life, they will be playing songs from 2018's 'The Hawksworth Grove Sessions' as well as brand new material.
"Ghedi and Hay may be working in a deep tradition, but there's something to the Hawksworth Grove Sessions that feels distinct…" - UNCUT
"What's absolutely certain is that these two British musicians are currently on a creative roll that shows no sign of slowing any time soon…" - fRoots
TREVOR MOSS & HANNAH-LOU
Trevor Moss & Hannah-Lou met as teenagers in 2003 at Goldsmiths College, New Cross, South London. They would go on to become influential figures in the Brit-Folk revival. Their fifth album Fair Lady London, recorded on their 4-track cassette recorder in a quiet corner of a castle in the rolling valleys of East Sussex, was released in late 2018 on the Maiden Voyage Recording Co. Label.