words
Ideas are at the root of The Good Life Experience. Ideas from writers and thinkers and movers and shakers; from normal people like you and I and from public figures. Good ideas, bad ideas, serious ideas, silly ideas. Ideas spark action and joy and there are a million in the air at The Good Life Experience.
TOM HODGKINSON
Tom Hodgkinson is a British writer, commentator, retailer and holder of strong opinions, mainly expressed via The Idler, where he is editor. His books include Business for Bohemians, How to be Free and How to be Idle.
JAMES SILLS
James Sills is a folk musician and singer and has dedicated much of his recent life to inspiring people to sing, whatever they believe that their ability in this area is. He is the author of Do Sing, which will be launched at The Good Life Experience 2019, and host of podcast Sing, Sing, Sing.
MARK SHAYLER
Mark Shayler a visionary, public speaker, author, writer and enthusiast who runs an innovation and environmental consultancy called Ape. He is the author of Do Disrupt: Change the Status Quo. Or Become It. He will be curating a series of talks at The Good Life Experience 2019.
PATRICK GRANT
Patrick Grant is a British fashion designer and director of Norton & Sons of Savile Row, E. Tautz and Community Clothing which is a 'social enterprise with a simple mission – to make excellent quality affordable clothes for men and women, to create great jobs for skilled workers and by doing this help to restore real pride in Britain's textile communities'. He is also a judge on television series, The Great British Sewing Bee.
KAREN SCOFIELD SEAL
Karen Scofield Seal is CEO and co founder of Oceanium which is a biotech company dedicated to developing seaweed based products including compostable bio-packaging. At The Good Life Experience she will be speaking with Dr Charlie Bravington, a bio-chemist based at The European Marine Science Park in Oban.
LAURA MUCHA
Laura Mucha is the author of Love Factually. The Science of Who, How & Why We Love which Richard Curtis says is better than his film of (roughly) the same name. She is a children's writer, mainly of poetry and has studied psychology, philosophy and the flying trapeze as well as training as a lawyer before being hit by a car at the age of 29 and deciding on change of career.
NATALIE LEE
Natalie Lee is best known as @stylemesunday on Instagram where she has just shy of 70 000 loyal followers. But there's much more to Natalie than that. She hosts The Everything Project podcast and worked with Dove to create their world-renowned Warrior Woman Project.
JOAN IYIOLA
Joan Iyiola is a British/Nigerian actress based in London. She is best known for playing the title role in The Duchess of Malfi at The RSC to huge acclaim. She is co-founder of Mono Box which provides cost effective, nourishing training for actors and theatre makers.
BRIAN BEATON
Brian Beaton is part of the team that runs the employment team at House of St Barnabas. The House is a members' club that aims to break the cycle of homelessness. Through his Humour of Sense workshop he uses comedy to support people in difficult situations.
PETER FRANCIS
Peter Francis is the Warden of Gladstone's Library, Britain's only Prime Ministerial and residential library. The Library is dedicated to theology and liberalism. Peter is an expert on the life of the Library's founder, four times Prime Minister William Gladstone.
KATIE ELLIOTT
Katie Elliott is a writer and public speaker and the founder of Little Challenges which offers 'ideas, inspiration and practical tools to help make the messy business of being human just a little bit easier'. She is also the host of the Adventures in Behaviour Change podcast.
HILARY GALLO
Hilary Gallo is a lawyer, coach, negotiation expert, sometime jewellery designer and the author of Fear Hack and The Power of Soft. As Hilary puts it 'my focus is on enabling people. What binds my work together is a belief in our power from within'.
JESS LEA-WILSON
Jess Lea-Wilson is brand manager of the globally renowned Welsh salt producer Halen Mon. She is the author of Do Sea Salt: The Magic of Seasoning. She knows a lot about salt and is also a champion of sustainable food production and a public speaker.
JAMES GREENWOOD
James Greenwood is a vet, potter and television presenter. He studied at Bristol University and has practiced as a vet since 2007 while also appearing on BBC 2's The Great Pottery Throwdown and the hit CBBC series 'The Pets Factor'.
STEVE CHAPMAN
Steve Chapman has never fitted in. He is an artist who gives away his work. He specialises in working in creative and counter-intuitive ways to help people to free themselves 'from the stuck loops of common sense'.
KIM SHAYLOR
Kim Shaylor is one half of Gone Rogue which curates and exhibits art focused on the relationship between art, fashion and mental well-being.
ANNA JONES
Anna Jones is a food writer, stylist, author and pioneer. Her career started at Jamie Oliver's Fifteen apprentice pogramme and she has gone on to become hugely influential and widely respected. Her book A Modern Way to Cook was a smash hit and together with her Guardian Weekend column has redefined the way that many think about vegetarian cooking.
TINA MALCOLM
Tina Malcolm is a conscious, creative and inspiring professional who uses her personal journey to inspire those that need help.
JASMIN O'HARA
Jasmin O'Hara is a British human rights defender who works in international refugee support. She is the co-founder of the Worldwide Tribe charity where she uses story-telling techniques that are often associated with fashion and brands to connect people to her work.
VIVIENNE RICKMAN-POOLE
Vivienne Rickman-Poole is a wild swimmer, artist, educator, author and film maker. If that seems like a long list, it is, because Vivienne has many strings to her bow all of which connect to her deep love of outdoor swimming and art. Watch her star in the video for Elbow's iconic song (Real Life) Angel.
BLANCHE GIROUARD
Blanche Girouard is a teacher, writer and broadcaster with a long association with The Good Life Experience. In 2019 she is curating a series of talks on the theme of How To….
JOSH COHEN
Josh Cohen is Professor of Modern Literary Theory at Goldsmiths and a psychoanalyst in private practice. He is an author of several books and a journalist who writes on modern literature, cultural theory and psychoanalysis.
CHARLIE GLADSTONE
Charlie Gladstone is an entrepreneur, author and land owner. He has founded or co-founded The Good Life Experience, Pedlars, Glen Dye Cabins & Cottages, The Glynne Arms and Hawarden Estate Farm Shop. He hosts The Mavericks Podcast and co-wrote The Family Guide to the Great Outdoors with his wife Caroline.
TOM HUNT
Tom Hunt is an award-winning chef, food writer and climate change activist. He is an idealistic eco-chef and author of The Natural Cook: Eating the Seasons from Root to Fruit. Tom's work focuses on food sustainability without compromising on creativity and taste.
DR FREDDIE BAVEYSTOCK
Dr Freddie Baveystock will be talking as part of our My Story: How I Made Change Work series. His professional career started at Oxford University where he taught American Literature. He then spent many years working in branding for some of Europe's top agencies before making a radical shift in career and training as a state school teacher.
JANE LINDSEY
Jane Lindsey will be talking as part of our My Story: How I Made Change Work series. From her home and workshops near Loch Lomond in Scotland Jane runs a thriving online business that -like all interesting small businesses- twists and turns as her life does. Jane suffers from Addisons Disease and this has informed her lifestyle and her business.
MICHAEL NICHOLSON
Michael Nicholson will be talking as part of our My Story: How I Made Change Work series. When Hunter moved production for its famed wellingtons from Scotland, Michael Nicholson decided to launch a mission to get wellies made in Scotland again. He hasn't yet succeeded in all of his mission; but he is making wellies.
ROB DOYLE
Rob Doyle's first novel Here Are The Young Men was published by Bloomsbury and selected as a book of the year by The Sunday Times and Irish Times. It was also selected as one of Hot Press's '20 Greatest Irish Novels Since 1916'. As if that wasn't enough he is an essayist and actor who appeared in the 2017 feature film Hit the North.
JULIE ANNA DOUGLAS
Julie Anna Douglas is a writer and children's poet and is the author of A Treasure Chest of Story Telling Inspiration. Her aim is to help children unlock their imagination and create their own amazing stories and adventures.
KAREN O'DONOGHUE
Karen O'Donoghue is the founder of Happy Tummy Co. Karen's attitude to food comes from a deep respect for the land. As the daughter of two horticulturists she prefers as little intervention as possible between the time a food is picked and the time it reaches your mouth to keep your tummy in optimum gut health.
CERYS MATTHEWS
Cerys Matthews is a broadcaster, festival founder, author and musician. She hosts a much loved radio show on BBC Radio 6 where she champions endless interesting music and a weekly blues show in Radio 2. Her books include Hook, Line and Singer. She co-founded The Good Life Experience and has been made an MBE.
LIA LEENDERTZ
Lia Leendertz is a writer and journalist whose work regularly appears in The Guardian and Telegraph as well as Gardens Illustrated. Her books include My Tiny Veg Plot, The Twilight Garden and The Half Hour Allotment. Her new series of almanacs A Seasonal Guide… aim reinvent the rural almanac.
CLOVER STROUD
Clover Stroud is a writer and journalist. Her work regularly appears in the Times and Telegraph. Her book The Wild Other: A Memoir of Lover, Adventure and How to be Brave was shortlisted for The Wainwright Prize in 2016.
NINA GRUNFELD
Nina Grunfeld is a writer, journalist, public speaker and entrepreneur. She is the founder of Life Clubs, a workshop-based system for self-development. Her best-known book is, perhaps, The Big Book of Me which lead to her Daily Telegraph column Get A Life.
LOUISE EDWARDS
Louise Edwards will be talking as part of our My Story: How I Made Change Work series. She is passionate about making the world a better place and so -in her spare time- she founded RAVEN (Refugee And Volunteer Empowerment Network). Her vision is 'a world where refugees are treated with dignity'.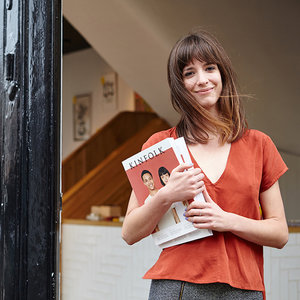 SIDONIE WARREN
Sidonie Warren will be talking as part of our My Story: How I Made Change Work series. Sid moved her design studio to Bristol in 2013 but struggled to find a suitable office. A beautiful retail space was available in Clifton though and so Sid decided to run a design agency and a shop. Now Sid has a design agency and a chain of five Papersmiths shops selling beautiful stationery and magazines.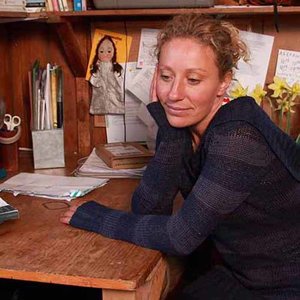 CATRINA DAVIES
Catrina Davies will be talking as part of our My Story: How I Made Change Work series. Catrina is the author of Homesick; Why I Live in a Shed. The book is a memoir of a personal housing crisis and the radical solution that Catrina found.
NICOLE FLATTERY
Nicole Flattery's collection of short stories -published by Bloomsbury after a fierce bidding war- was Show Them A Good Time and was described by The Guardian as 'an addictive mix of deadpan drollery and candour'.